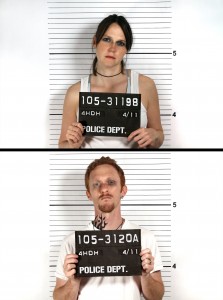 A mug shot also known as an arrest picture or an arrest image is a picture that is taken at the police station when an individual is arrested. The reason for a mug shot is to allow investigators and victims to easily identify the arrestee. Mug shots are grouped in what is called a mug book. This mug book makes it easier for you to identify criminals.
The pictures of individuals who commit a crime or who are booked in Tampa Bay can be found by searching the Internet for the words Mug shots Tampa Bay, Florida and the search results will provide you with a list of faces of people for that area.
Individuals search for Tampa Bay mug shots for various reasons. Some are for employment agencies doing background checks on prospective employees, to scandalize someone, for private investigative work, for entertainment purposes, and for law enforcement. Mug shots come in two different images. They are the side view and the frontal view.
There are many legitimate ways in which you can view Tampa Arrest photos.
Mug shots can also be found through the media. This is especially for cases that are very important. If the public is thoroughly interested in the cases, the media will publish the pictures so that they can be knowledgeable on the happenings in the case.
Also mug shots can be found at the Police Station or the law enforcement agency. At times, you will find mug shots of certain people being placed on the notice board.
Tampa arrest pictures are also showcased in the print media (newspaper) and are also found on the newspaper's website.
If you are seeking a copy of your own arrest picture, you would be required to visit the jail where you were booked to seek information on the process. The process of obtaining this information usually starts by making a formal records request.
The best avenue for Mug shots search for Tampa Bay is through different websites. It is the easiest and the quickest way.
These websites legally download the mug shots from police websites and then publishes them on various sites designed to house mug shots.
Another way to acquire an arrest picture online is by searching through search engines. You type in Tampa, Florida department of corrections. This will give you a list of the people who are in the penal system. This list will be accompanied by an arrest or booking picture.
The steps to find Tampa arrest photos through the Florida Department of Corrections are:
Visit the Department of Corrections webpage
Search for prison records. The name of the individual being searched for would be typed here.
Click on the Inmate Population Search link
It is to be noted that searching for someone's mug shot will become difficult if you do not have the necessary and important information such as the full name of the individual being searched for. It is advisable to go with the general search option instead of narrowing the mug shot search to the date of incarceration and the type of offense.
Even though you can visit the Police Station in Tampa to see records of criminals and mug shots, the ideal option is through the Tampa Florida online database. The popularity of the web has made it simpler, no hassle and a convenient way to find arrest pictures.
Find your mug shots online in Tampa are effective through the Tampa mug shots database.  This large database provides you with up to the minute images of people who have committed violations and offenses that are very serious.
Finding a trusted website is the best bet when you are seeking accurate and recent information on Tampa criminals. A trusted website can give information on an individual who has committed a crime or on someone who is a pedophile. Dependable and reliable database is key in giving out accurate information to the public since there are thousands of database online that may not be accurate.
Individuals need to be aware that in order to achieve quick results it is best to have high speed Internet. There are sites that provide no difficulty in searching for Tampa Bay arrest pictures. You do not need assistance from anyone to find the information that you seek. The database on these sites is self service.
In light of the fact that Tampa Arrest records online database are available online, you can perform your search anywhere you are located and where it is private.
Acquiring Tampa Bay Mug shots can be at a price or it can be free. However the fee if paid is reasonable. The service that you receive is based on the amount of money paid. You can even have unlimited access to other criminal records when you have paid for the Mug shot service.
There are different websites that offers free mug shots search. However, it is advisable to choose the paid sites to access information on mug shots since these sites have more accurate, recent and more detailed information.
Having your mug shot available on Tampa Bay website and other sites can be to your disadvantage in numerous ways, since it proves to do more harm than good. With access to the World Wide Web anyone can view your arrest picture and critique it.
However such mug shots can be removed by mug shot removing companies at a fee. These companies would remove the mug shots on your behalf from websites that are publishing them.
Another way to have your mug shots Tampa bay, Florida removed from the Internet is requesting that the Court remove it. Sealing the felony associated with it will also help to improve your record history. This applies only in cases where you are found innocent.