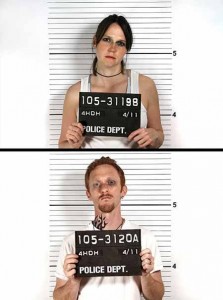 With the digital age that we are living in everything is uploaded online within no time. You might be unfortunate to be booked in jail for a crime and now you have a record out there somewhere. Was your photograph taken during the booking process? Then am sure you are wondering what it is or what it was for. Jail mug shots are taken when an individual is arrested of a crime, a file is created which bears his/her personal information. It is otherwise known as a booking photograph or police photograph. The front and side view is taken so that the individual can be identified from all angles. They are sometimes used in high profile cases and are published by the media.
Do you know how to find inmate mug shots? Well, this process can seem frustrating at the outset but if you have all the right information it will not be a hassle. There are some important steps that you can take to find you booking photograph. This information is usually available to the general public on the Internet and is just a click away. Here are a few steps in finding the photograph.
Firstly, you need to know the full name and the correct spelling of the individual you are looking for. Apart from that you can also find out any distinguishing information about them such as birth mark, tattoos, and scars. This information will help you narrow down the search so that you will find accurate information.
There are two sources available to you that you can use to search mug shots. You can either go online or you can go to your Local County or state department of corrections office. There are various websites that allows you to search for free. You can search by the county the individual was arrested in or the state they are living. The state office will more than likely have this information as they keep up to date records of crimes that happen in the area. If you do not want to go to their office you can always go to their website search in their online database.
Newspapers may also print booking photographs and they are usually on their websites as well. You can search for the local newspaper print and online version and you might be able to find the photo there.
If you know or suspect that the person is a sex offender you can go to the sex offenders' registry and search for the mug shot by their state and county.
If the individual was arrested and placed in county jail then more than likely they will have a record of it and possible upload the photograph on their website.
The more information you have about the person you are looking for the easier the search will be. Since there is so much information out there it can be challenging searching through them all and not only that some of them are not credible and will give you incorrect information. The most credible sources that you can use are your state and county websites or go to their offices. You can also check with other larger law enforcement agency that has a registry of certain crimes that have been committed in the country.
Can I get my jail mug shots removed from the Internet?
Having a prison mug shots out there circulating on the Internet can harm you in the future. But there are steps that you can take to minimize any damage that it may cause to your life and family by extension. Mugshot sites occasional allow for the removal of such records from their websites. For some sites if the booking photograph has been there for a day or two and the individual finds it he or she can request that it be removed. There are other sites that object to the removal of the photo as having it there is not against the law. In some cases if the individuals request meets the "unpublished policy" they may consider removing it.
Using an expert to fast track this process might be your best bet. There are various companies that offer individuals with mug shot removal tools for a small fee. The companies get the photo deleted from the website and include Google checks as a part of the service so that the photo does not resurface on any other website. An individual who utilizes this service can get their mug shot deleted within minutes and avoid the long wait and frustration that it brings.
Apart from the options listed above, an individual can also petition for an expungement process that will not only remove the mug shot but also clear the record completely. To get your criminal record expunged means that all the information associated with the arrest and conviction is destroyed and become unavailable to the public and state agencies. You can also get your record sealed, this process will not remove the booking photo in totality however, it will make it unavailable to the public. The sealing of records means that the public and some state and government agencies will not be able to access the information.
Having jail mug shots is one thing but knowing how to find it on the Internet is another headache that an individual do not want to go through. The booking photograph is taken once you have been arrested for a crime. Depending on the state or county it is uploaded to the Internet for everyone to view in no time. But there are measures that an individual can explore to have it removed.