The Expungement Center is dedicated to helping Americans everywhere understand their rights about their public records. We publish helpful information about record sealing and record expungement for states where it is available.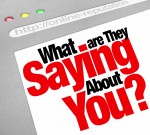 When you are arrested it not only impacts your personal life, finances and career but it causes for a huge impact of your ability to control the long term public reputation implications.   Managing your complete online and public reputation is perhaps more important than actually getting an expungement or record sealed.  The cold hard fact is that people are still able to view your mugshot on hundreds of mugshot websites and are having conversations (typically bad) about your arrest.  You can not sit idle, you must be smart and react with proactive responses.  The best way to do this is to work with a company like PublicReputation.com; we have found them to be the most honest and effective in protecting and fixing online reputation issues.
Whether you like it or not you must pay attention to what your neighbors, family members, potential customers, competitors and coworkers are saying about you and what information is being solicited about you across the internet.  NOW, just imagine that for whatever reason you or even your mother are arrested for possession of marijuana (a harmless herb, now legal is some states) and within hours that arrest record is spread across thousands of background check databases and your mug shot is plastered across dozens if not hundreds of online mug shot scam sites that will charge you $99.00 to $399.99 to remove your image.  The issue is that regardless of you and or your mother smoking marijuana and more importantly regardless of being guilty or not; your mug shot is now plastered across the interned with you name, address, date of birth and flagged with – Arrested For Illegal Substance.  What happens next is the  reality of living in a digital millennium; if your name is entered into Google, Bing or Yahoo the chances are that your mug shot will be the first thing to come up.  In addition, if you do a background check on yourself you will see that the arrest is in the database of thousands of data companies across the globe.
Once you get an expungement you legally can deny the arrest ever took place and you can legally force the information to be destroyed and even file a lawsuit against any company that is actively promoting and soliciting your arrest details..  You can and should fight to protect your privacy and civil rights.  Your arrest image (mug shot) will show up on every search your neighbors, friends, family and co-workers enter on the internet.  The basic arrest information is available to anyone from the law enforcement agencies because of  the Freedom of Information Act as well as on sites like PoliceArrestRecord.com and therefore it is up to you as a citizen to force that information to be removed and deleted or hire a company like Publicreputaiton.com to do it for you.
Online Reputation Management, also known as ORM,  is a must in monitoring and managing your reputation online. There are a number of tools out there that you can use, but the real value comes out of understanding what ORM actually means for you personally and for your business.  Its not often we endorse anyone but in this case we will state it is our opinion that PublicReputaiton.com, the trusted name in the reputation management arena. You should ask them to run a free analysis via http://www.PublicReputation.com