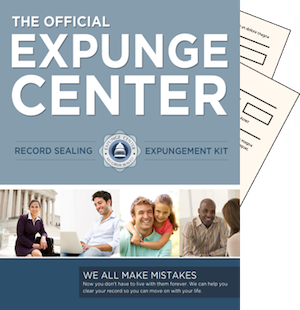 Delaware Records Expunge Kit

[add_to_cart item="0008″ quantity="user:1″ ]
Do you have an arrest record that you would like to have sealed or expunged? Our kit can help you with every aspect of your Delaware expungement, and it can be done completely without hiring a lawyer! People who have either been acquitted or had their charges dropped through a "nolle prosequi" may think that they do not have a case that can be viewed by the public. This unfortunately is not so. Thus, the benefits of having your record sealed or expunged are plenty. Consider the fact that such a service could help obtain a [better]  job, join the armed forces, apply for licenses for a variety of occupations, and qualify for most school loans among many other things. Consider, also, that in a variety of situations a background check is required. If you want to volunteer at a hospital, a school, a church ministry program, or a variety of other places a negative result on a background check could very well hold you back. An expungement can assist you in ensuring that your legal mishap no longer is accessible by the public and give you more opportunities to do the things that you desire to do.
We have consulted with some of the best lawyers in Delaware in order to assemble this premium, self-help expungement and sealing products to ensure that our customers have the best opportunity to get their record cleared. This do-it-yourself kit will empower you to easily follow Delaware's filing process so that you can get your life back!
EXPUNGING ARREST RECORDS
Delaware has certain laws about this process. First of all, the arrest must not be a sex offense, false imprisonment, interfering with custody, some coercion offenses, trespassing for the purpose of being a peeping tom, child endangerment, jeopardizing a vulnerable adult, patient abuse, or boating under the influence of drugs or alcohol. Secondly, your arrest must have had a positive outcome for you in order to have a better chance at sealing. In other words, if you were acquitted or had the charges dropped, then you are eligible to petition the court using our kit.
METHODS TO EXPUNGE RECORDS – DELAWARE
There are many ways to begin this process. One way is to hire a very expensive private attorney who will do all of the paperwork and grant you a successful outcome. Another way is to use our kit in order to get the process started for you, which will literally save you hundreds, if not thousands, of dollars in legal fees. As with any process, this usually begins with a phone call to an official of the superior court where the case occurred to ask them to send all information on the case. Once this is done, the process can begin. This is where our affordable, do-it-yourself kits can be extremely helpful to you. Because we have gathered the necessary information for you by consulting attorneys knowledgeable in the laws of their state, we have drastically simplified the process for you. Call us today for one of our user-friendly legal kits and start the process!
[add_to_cart item="0008″ quantity="user:1″ ]
Make sure that you have completed our eligibility test before adding this item to your cart.